Hi! I hope everyone is strong and healthy during this period. I wrote "16 points to take note before signing up a web hosting plan" 2 weeks ago, and this article will give you a simple insight of the web hosting I've been using for my online businesses for several years. 
Have you faced a lot of head-scratching moments while trying to set up your hosting server? I did and was afraid of hair loss at young age when I just started as a freelancer a decade ago. I learnt my lessons by wasting precious time struggling with non-intuitive cPanel and not very helpful customer support, just for saving $2 ~ $3 monthly fees with an annual subscription. And limit me to a maximum of 5 websites per server only. (so much savings uh)
As a web developer, it is important to be able to host 2~6 staging sites and uninstall/migrate them easily upon completion. Hence, I have been changing the hosting provider almost every year until I found Cloudways.


Amazing performance
Free SSLs and unlimited websites
Scalable
Neat and easy to set up and manage
Affordable add-ons
Automated backup and easy restore
Cloudways is an easy-to-use cloud hosting with modern, easy to use control panel.
The cheapest rate is USD 10 per month with Digital Ocean's server. It is about SGD $1 to $3 pricier than other reputable service providers. Overall it is cheaper as Cloudways did not charge additional fees for functions. E.g., I saved as much as SGD $60 on SSL certificates for each domain, unlimited websites, etc.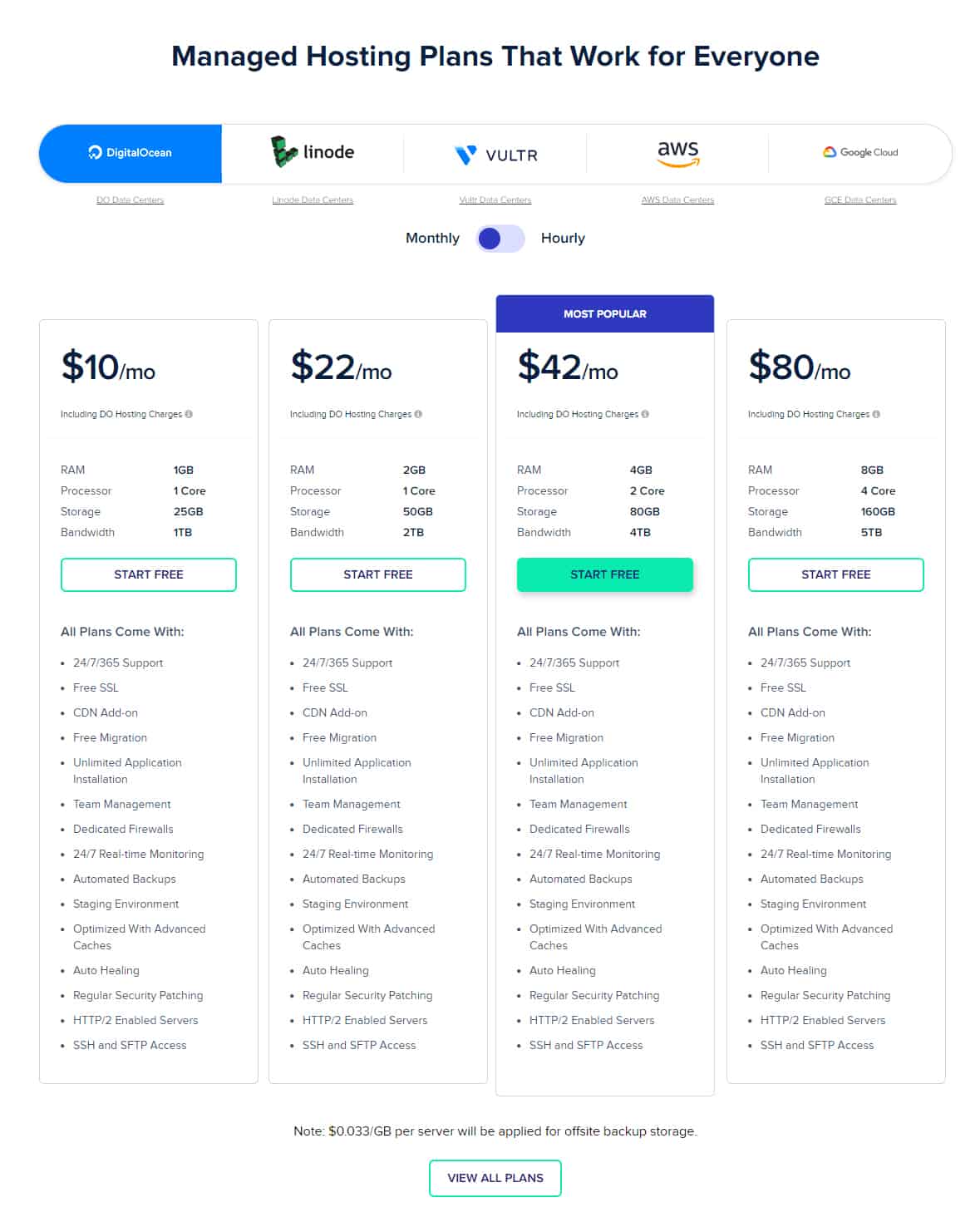 Uploading and downloading speed are impressive. It may not be prominent for general usage. You will see the difference in speed while performing maintenance work,  backup, and updates.
3. Neat and simple to use
Cloudways streamlined several processes with their custom dashboard, allowing you to configure your server without any knowledge with the programming language.
On the server management page:
You can easily edit the maximum upload size, memory limit, etc. View server health and usage, update PHP, MySQL version.
On the application page:
Each website is named "application" in Cloudways. And the selling point of it is you can install unlimited applications on 1 server. Although it warned that the basic $10/monthly tier isn't suitable for more than 1 application, I am currently hosting 4 'live' websites (2 of it are E-commerce stores). And another server hosting 6~10 staging sites for ongoing projects.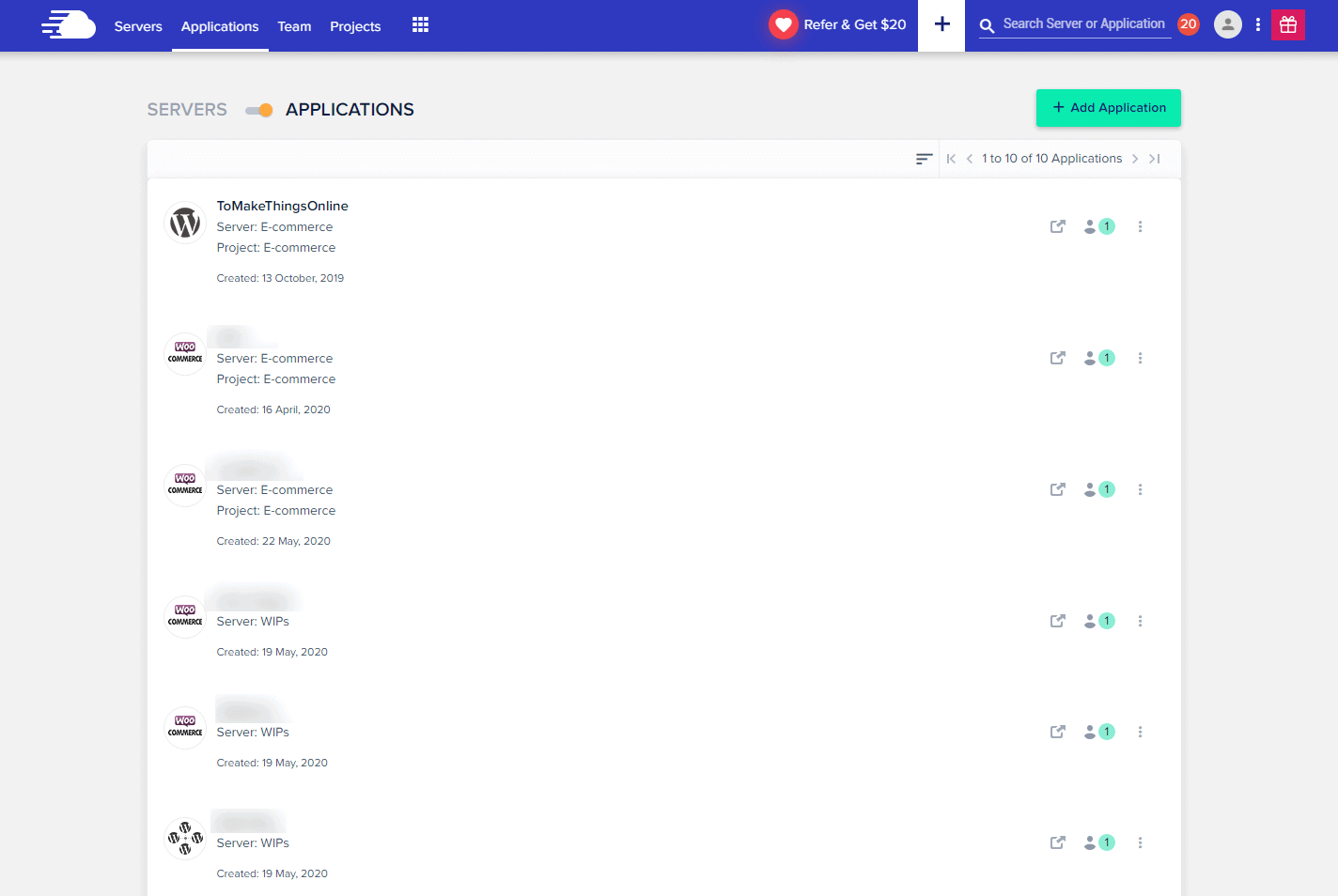 I also enjoy the simplicity that there's only 1 way to install WordPress, cPanel allows you to do so with installers or via FTP. But depending on the installation method, it can be quite technical to uninstall it completely. Cloudways only requires 3 clicks to uninstall everything.
What's more, you can:
4. Manage your domain name of the application
Cloudways offer an unlimited amount of temporary domain name for each application installed. Simply enter your domain to overwrite it. *Remember to point your DNS to the IP address before doing so.
*Note: Some providers do not allow you to change the domain after installation, and even request you to delete the existing site and reinstall everything to archive it.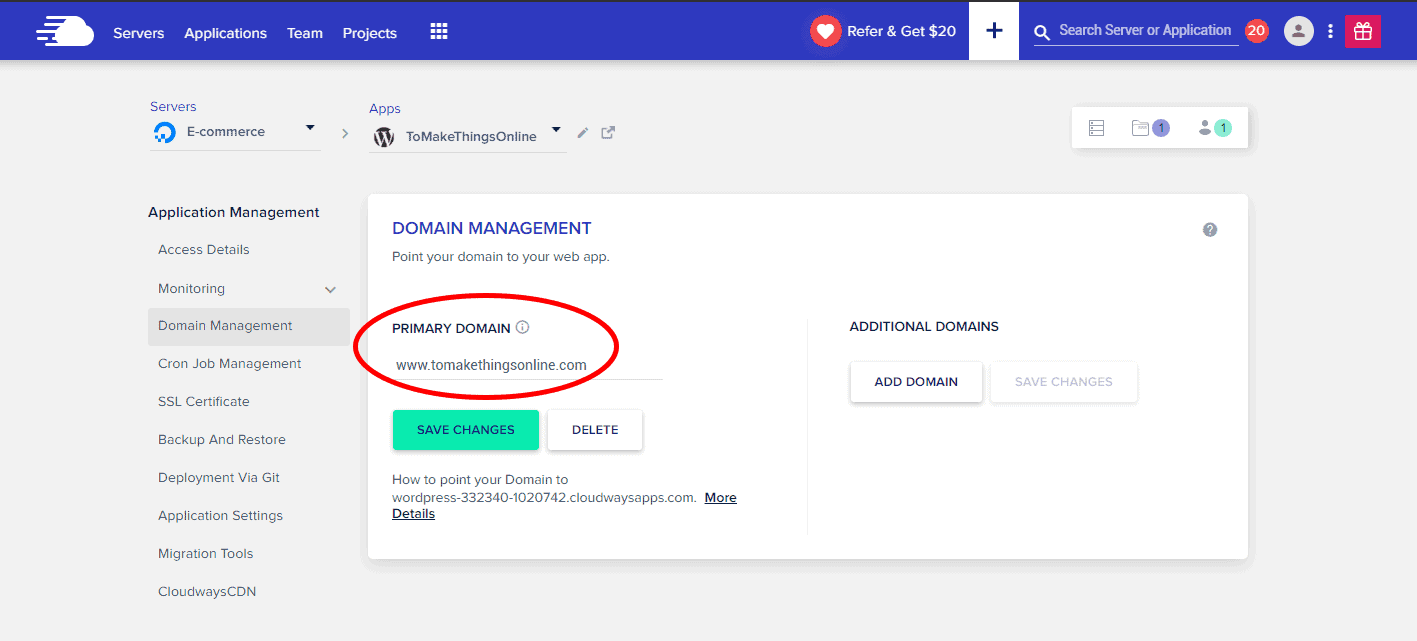 5. Setup FTP login and password
The login and password are not created by default for security reasons. You can create it here if necessary and access it via Filezilla.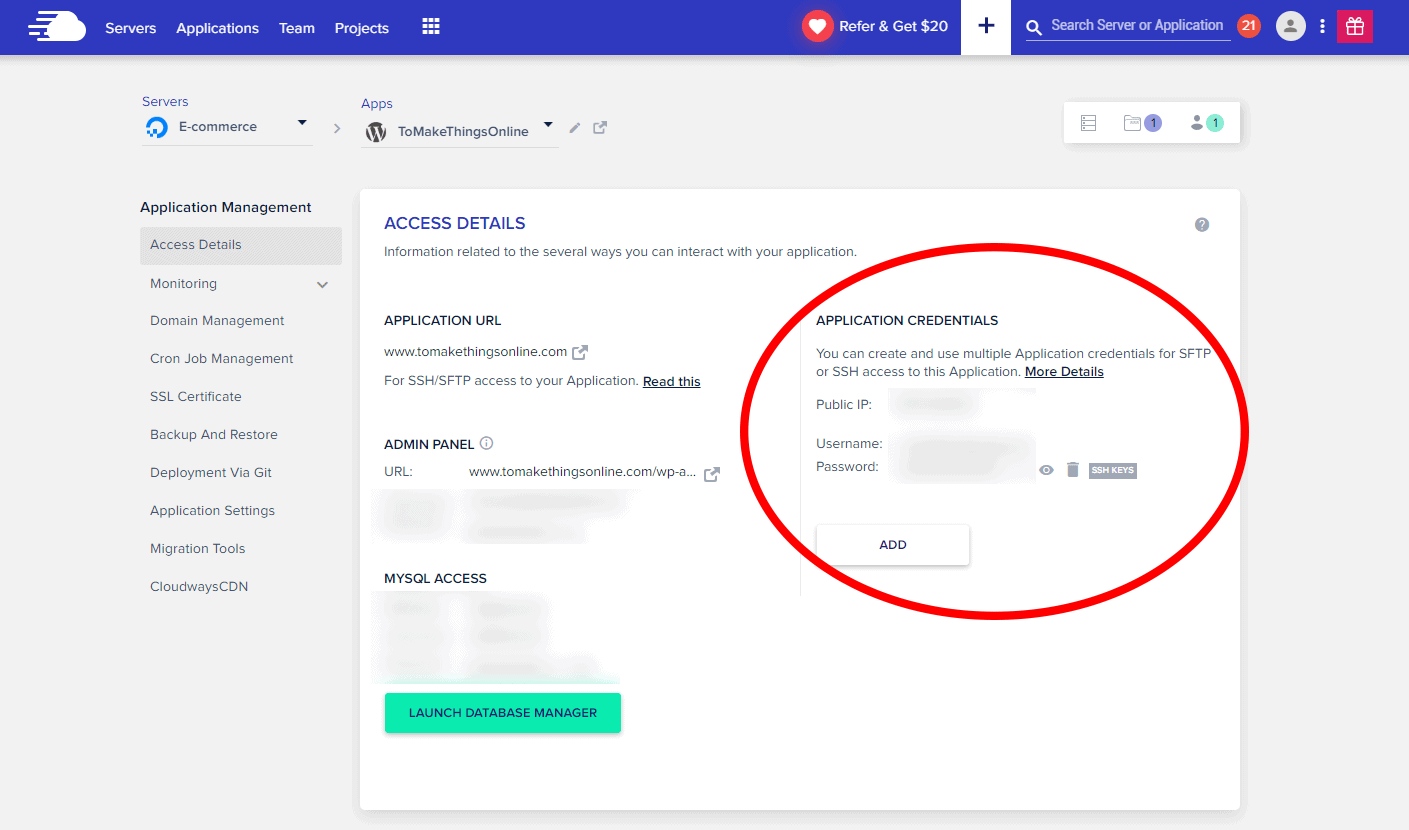 6. Easy SSL Certificates Setup
Setting up SSL is very easy with Cloudways. You do not need to purchase an additional SSL certificate and simply enter your email address, and the domain will set you up for https. Saving you the hassles of accessing .htaccess or install a plugin like "Really SSL" to configure it.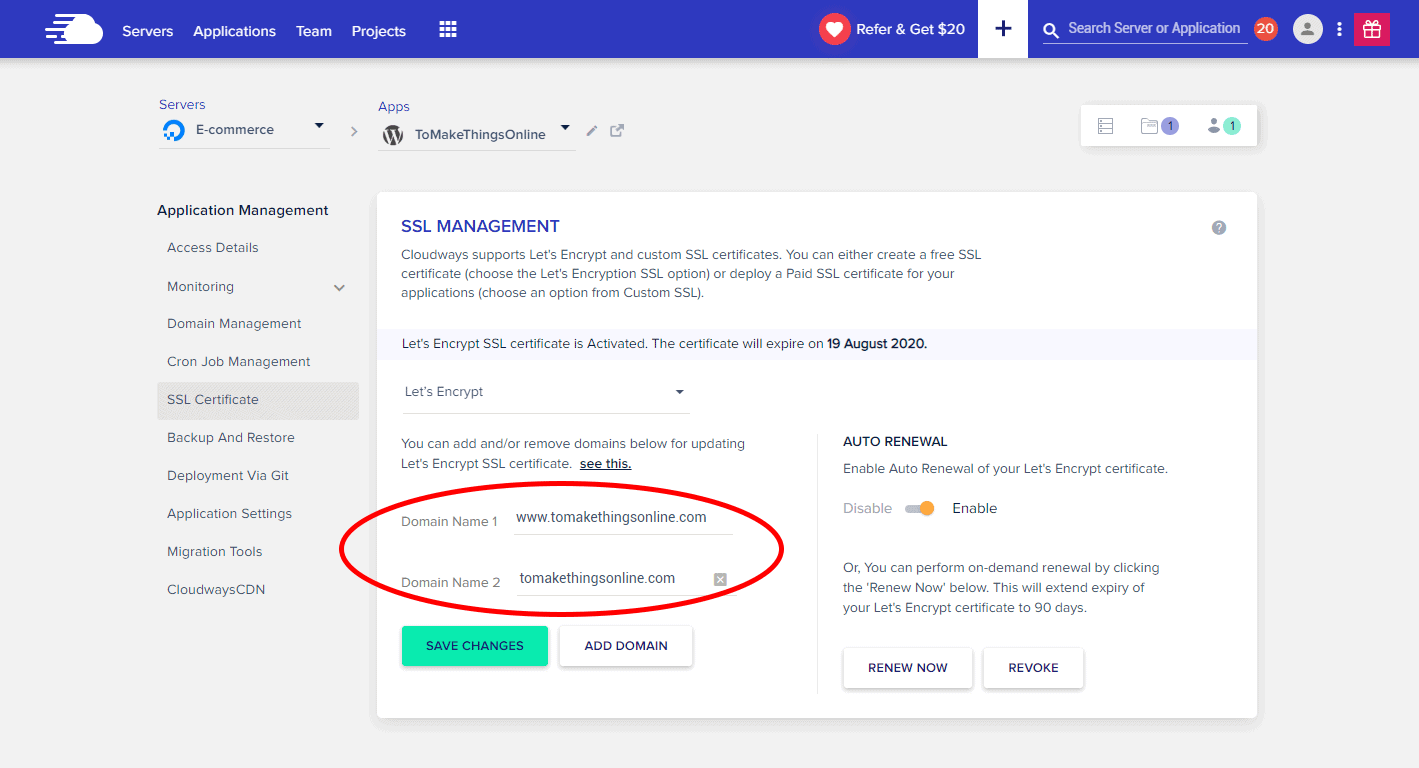 7. Automated off-site backup
Cloudways charges SGD 0.50 per month for each server. Off-site backup saves your data without eating up your storage space, and you can set the frequency of each backup interval and auto-delete them. For me, I set it a daily backup at midnight and retention of 7 days.
Restoring is very simple, as well. Simply go to your Cloudways application dashboard, select the date you wish to recover, and WAH LAH! Your site is restored, and you have the option to revert to the previous version too.
*Note: You can manually perform an on-demand backup on your storage as well. I usually do so when I need to complete a major update on all my websites.
8. Responsive 24/7 support
Cloudways offers multiple support types.
Live Chat
Create a Ticket – I always use this for technical support, they usually reply within an hour
Very well documented knowledge base
You will be able to find a lot of info on this. Some are related to web development.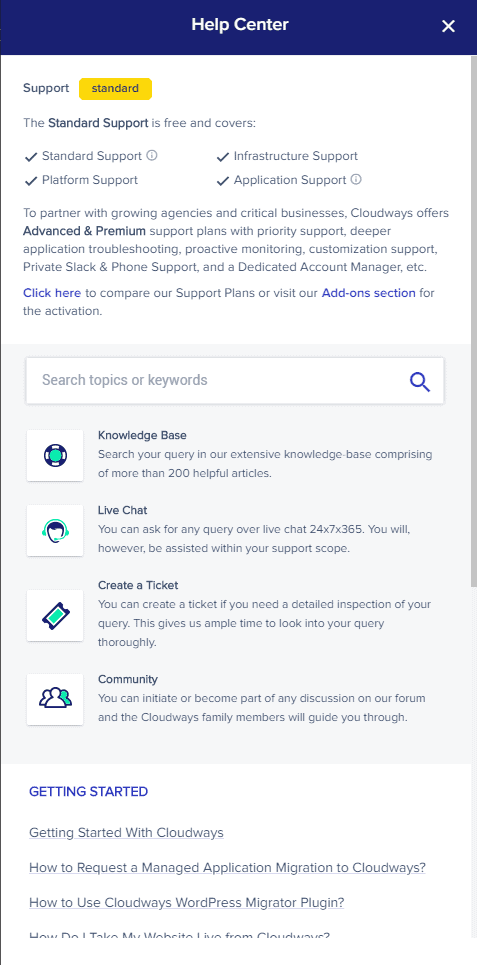 9. Clean WordPress Installation
Some web hosting providers install quite many bloatware in it. E.g., free anti-virus, caching plugins. Cloudways installation is pretty clean. Every fresh installation will only include these:
Akismet Anti-Spam
Breeze (caching plugin)
Hello Dolly
Woocommerce
Bot Protection
The website may crash due to reasons such as plugin/theme incompatibility, update, and so on. Cloudways resolve most of the issues within the server with its auto-healing restart.
11. Affordable Rack space email addon
One of the cons for Cloudways is it does not host email accounts within the package. They partnered with Rackspace to offer email hosting at a discounted rate of USD 1 monthly per email (original price is USD 2.99).
I hope this recommendation helps in your business as site speed, security, and ease of use are crucial to run a website. 
You can sign up for Cloudways with a 3 days trial by clicking the image link below. Try it and comment if you fell in love with it liked me! (●♡∀♡)